Color Theory
Introduction: learning about the theory of color.
Firstly watch this YouTube Video which explains what color is: (YouTube links must be viewed on personal device, an Edpuzzle 

link is provided below the video as back up)
2. Read through slides 1-7 on this presentation.
3. Now practice using the Color Calculator here to experiment creating different color harmonies. Watch this YouTube video to see how to do this:
For this assignment you will use the PicCollage app to create 3 different Color Harmony Boards: An Analogous Board, Complementary Board and a Monochrome Board.
How to create your color harmony board:
Step One: Create your color schemes using the color calculator. You will need to create one for each board.

Step Two: You may use photographs you have taken or stock photography and illustrations from the following sites: Pexels, Banimages, Pixaby or Stocksnap. (You can also use Google Images if those other links don't work). Make sure to keep the photos you save organized. Create three folders on your desktop/phone gallery titled "Analogous," "Complementary" and "Monochrome" to save your downloads. USE AT LEAST 6 PHOTOS for each board.

Step three: Create three collages of your saved images. Use PicCollage for this. Watch this YouTube videos which show you how to do this: PicCollage app.
Go back to Teams and turn in all three collages in the "Color Boards" assignment folder.
Bonus Challenge: Incorporate another Element of Art into your images – such as line, texture, or shape.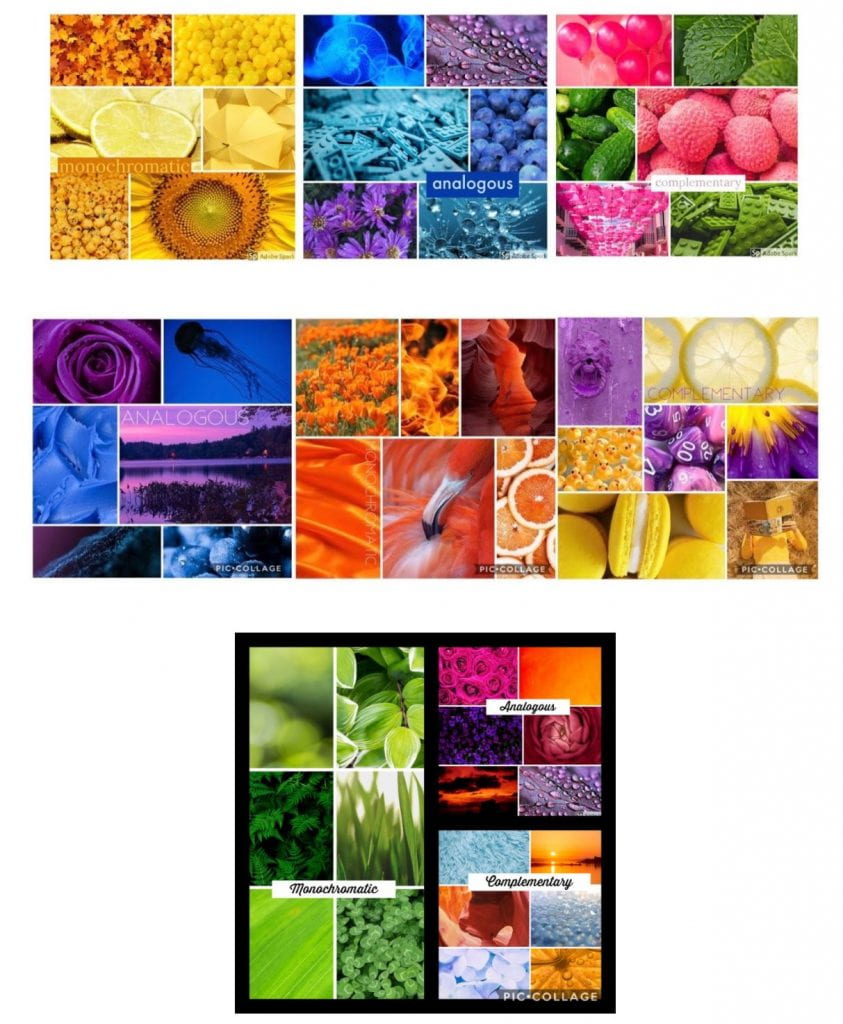 Credit goes to Amber Fox, Kelly Clark and Vanessa Olson of the Facebook group High School Photography Educators for the lesson idea, resources and student images.