Thurs. 9/3/20: Camera Angles & My Toy Story Project!
Objectives:
Define and identify various camera angles and the effects they have on subject matter.
Apply various camera angles to tell a story using a toy or figurine of choice.
Utilize photo editing basics to enhance images.
We begin today by taking a few notes on camera angles:
FYI: Camera Angle Quiz tomorrow!
Project Description:
Due by Monday Sept. 7, 2020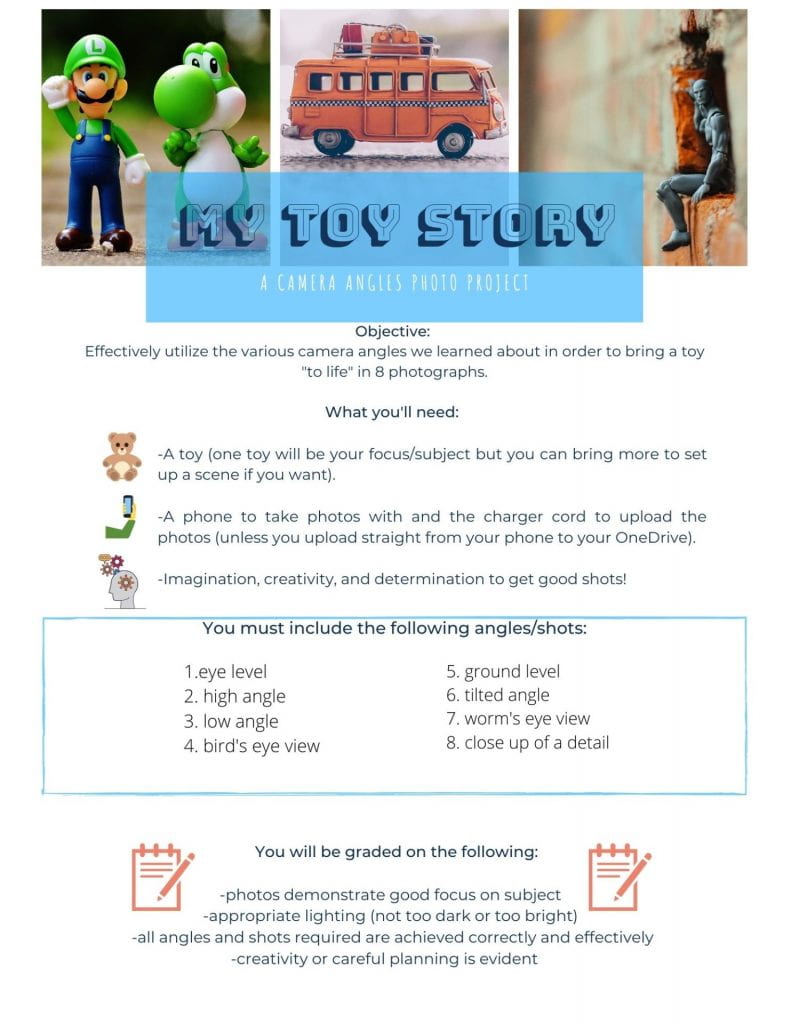 Instructions for turning in project:
After you capture your images according to the directions above, edit the 8 photos you will submit using your phone editing features or Snapseed.
Use PicCollage to place the 8 photos onto one grid. Here's a video showing you how to use this app: PicCollage YouTube Link   PicCollage Edpuzzle Link
Upload your collage to your class period Padlet Gallery Wall.  Include your name in the post (first name and last initial only) and give your photo series a title of your choice! Padlet Links are included below…

Due to the Padlet gallery wall by Monday 9/7/20!
Watch this video for inspiration…
YouTube version:
Edpuzzle Version of Little Toys, Big World:
https://edpuzzle.com/media/5f4dcc032bda7a3f5398cd05
Student Examples: