Tuesday 11/3/20: Spooky Photo Contest Voting + General Election Voting Info!
Vote for ONE Spooky Photo! (If you vote for more than one, I can't count it!)
Click here to cast your spooky photo vote!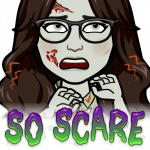 ---
You can still register to vote today in person! ID OR Social Security Card required. See below for more info:
Find your local polling place here! Just enter your address!
San Bernardino County Registrar of Voters Info
Find voter ballot info guides here! So you know what's on the ballot for your specific area (county, city, district) because it's more than just a presidential election!
Voter Bill of Rights If you believe you have been denied any of these rights,
or you are aware of any election fraud or misconduct, please call the
Secretary of State's confidential toll-free Voter Hotline at (800) 345-VOTE (8683).
Bob Page, Registrar of Voters
777 E. Rialto Avenue
San Bernardino, CA 92415-0770
(909) 387-8300
(909) 387-2022 Fax
Hours: 8:00 a.m. – 5:00 p.m.
E-Mail: rovwebmail@rov.sbcounty.gov