Tues. 10/12-Thurs. 10/14: Autumn Ambience w/ ISO
Today's Agenda:
---
Due: Monday 10/18/21
DO NOT CHANGE SHUTTER SPEED!  ONLY ISO!!
Some cameras have the ISO on the dial in the back, others (T6i's) have them at the top near the shutter button.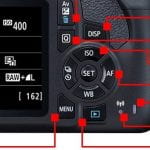 Posting Instructions:
Post your 7 photos on your blog as a gallery with 2 columns (link to media file!).  Caption the photos with the camera settings (MASIF)
Select your favorite of the 7 and open in Photoshop.  Edit the photo to enhance the look and mood. Add the edited photo to the same post BUT as a separate image (not a gallery).  
Due: Monday 10/18/21