Thursday 9/30/21: Padlet Peer Reviews + More Photoshop Tutorials
Today's Agenda:
Complete all past due assignments

Complete college applications
Padlet Peer Reviews
Photoshop Tutorials
---
Padlet Peer Reviews
In the "Important Links" channel on Teams you will find the Padlet Gallery Wall link. Click to open.
View the edited Splash Photos created by your classmates.  You will need to comment on at least 3. Your feedback should include:
What you like about their photo
What could have been improved or changed to fit the criteria of the project better or just ideas on how it could have looked better
Your first name and last name initial 
If you see a portrait that already has 3 comments by other people, skip it and comment on another (this way everyone gets feedback!).  If they all have 3 or more comments, then you can comment on any you want.
---
Photoshop Tutorials
Save your resulting images as a JPG in your One Drive!
Here's how you get to the tutorials:
Open Photoshop.
Go to "Help" at the top and select "Hands-On Tutorials".
Use the following category and skill level: Category: Photo Editing & Skill Level: Beginner.  If the tutorials don't show, restart Photoshop and try again.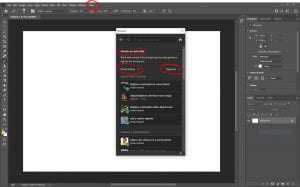 Complete the tutorials marked with a red checkmark:
When you complete a tutorial.  Export as a JPG image and save to your One Drive.
When you complete all 7 tutorials, post the images on your blog as a gallery. You will turn in the link on Teams tomorrow.